Suwit Muay Thai Training camp at Phuket island in Thailand.
Learning martial arts is a fantastic decision that you can make no matter who you are. There are so many benefits of learning martial arts that it would take an entire book to enumerate them. That aside – there are a few things that you will need to do in order to learn martial arts.
The first thing that you need to do is to select your martial arts of preference. Our personal suggestion is that you should pick Muay Thai. This is one of the most widely recognized martial arts in existence. It has many merits. And we feel like you will do the best thing possible if you select Muay Thai.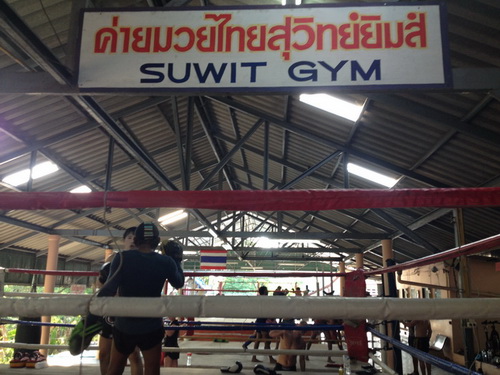 The next step is to find a Muay Thai training camp in order to get a basic course in this martial art. And there are many different training camps all around the world. Chances are that you will hit a proper training camp. But what can you really expect out of training Muay Thai?
The first thing to expect is that you will have to work hard in order to attain all the benefits of learning Muay Thai. You will need to sweat and use your body in vigorous ways. So, expect that you will get sore, especially in the first few sessions.
But then your body will get acclimatized. You will get stronger and better able to withstand the punishment of training. At the beginning of every session, you will need to warm your body up. This is typically done with a few rounds of jumping jacks and jump ropes.
Then you will typically need to do some technique work. This includes working the bag and the mitts. You need to be prepared to work with other people. Even though this is an individual sport, we stress the importance of working with other people. It's necessary.
Suwit gym : Muay Thai course for everyone @ Suwit Muay Thai for fighter
Suwit camp : Everyone can learn Muay Thai with us @ Suwit blog
Suwit Muay Thai for professional : Our website have many Muay Thai packages. Suwit is good choice for your holiday.
Suwit Muay Thai information : It is suitable for every one @ Suwit Muay Thai camp .
Suwit gym at beautiful area : Muay Thai for fitness is good for your holiday .
Suwit Muay Thai gym : Muay Thai teaches you forward and backward elbow strikes as well as knee strikes and foot jabbing.
Suwit Muay Thai website : The unique thing about this sort of boxing practice is that it synchronizes all the hard parts of the body with dexterity.
Suwit Muay Thai club : Muay Thai minimizes the effect of aging, it keeps your bones strong, and it's an excellent opportunity to socialize and learn about the Thailand culture.
Suwit at the famous city is for holiday program .
And in the end, you will need to do some sparing. This involves hitting other people and getting hit by other people with the Muay Thai techniques that you have learned. After you have done this enough times – you will be able to call yourself a proficient martial artist. Suwit for holiday is a new program for everyone.
Suwit with some tips : Muay Thai is hard sport and Muay Thai for self-defence
News of Suwit Muay Thai camp @ Suwitgym :
Now Suwit is a good choice for fighters. If you are planning your holiday to the exotic island such as Phuket then training in the world of Muay Thai training would be a great idea. It has many health benefits which can be obtained during the training course and use the technic to get new experience.  The Muay Thai training conducted by the professional trainer which will tell you how to use the Muay Thai style for good health and reduce the weight. Suwit Muay Thai business has Muay Thai shorts or fashion and good food. For those who are interested in the Muay Thai training camp, the fitness techniques are low impact and create greater muscle tone, higher mobility, and weight loss in terms of losing unwanted fat. For those who are interested in attending this remarkable camp located on a beautiful island, there are plenty of opportunities available. If you have any question about Muay Thai training program or course, you can contact at social media channel. In June is easier to come to train Muay Thai because you don't need to quarantine for Covid problem.